SuperFood Spotlight: Green Smoothie
What is a Green Smoothie?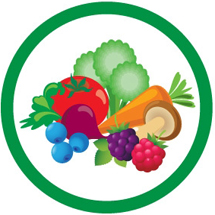 A Green Smoothie is a vitamin-charged drink made with blended fresh greens, said to be packed with raw nutrition for energy and better health. Athletes and raw food enthusiasts report having a mental and physical edge when they are nourishing their bodies with their daily Green Smoothie. Powerlifters and Strongman competitors swear by the power of the Green Smoothie to replace nutrients lost during their workouts and provide a quick energy boost. The movement has even spurred the creation of juice and smoothie bars in gyms and weight loss centers across the country. Nutrition experts routinely recommend a daily Green Smoothie to parents as an easy way of ensuring proper Vitamin consumption in picky eaters. Using a blender, it is possible to whip up a Green Smoothie at home, condensing platefuls of fresh bunches of healthy green vegetables into a single glass.
In recent years, the Green Smoothie has been touted by health and nutrition professionals as a super food and a painless way to add more greens into our diets. Because many people do not have the time to make or the desire to drink a Green Smoothie made with fresh leafy greens, the supplement industry has released a line of Green Powder supplements. Green Powder can be dissolved in water or juice or added to a smoothie or protein shake.
What is all the buzz about the Green Smoothie?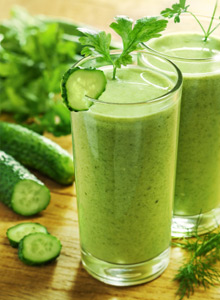 We all know better, but the average American eats far too much processed food and neglects the all-too-important vegetable group. For generations, we have been reminded to eat our greens. Salads, raw spinach, Brussels sprouts, kale, and collard greens are responsible for more dinnertime arguments and frustrated ultimatums than any other parenting dilemma. There are plenty of adults out there still refusing to eat the greens that Grandma pushed on them as a child.
We know that greens are good for us, so why not just eat them?
Well, we either don't have the time or simply don't have the palate or desire for eating salads and raw greens, especially with so many more appealing choices sitting on the store shelves. The introduction of a Green Smoothie as a dependable, drinkable alternative, delivering even more nutrients and without the crunch of salad greens, purports to be a terrific solution. A Green Smoothie is a super-charged green drink that, when added to your daily routine, will guarantee that your body benefits from a complete, balanced nutritional profile.
People who drink a daily Green Smoothie report a remarkable, almost immediate improvement in energy, regularity, digestion, weight management, and mental clarity. A Green Smoothie is a nutritious breakfast addition, whether it is a leafy green creation poured from your blender carafe or a Green Powder drink sipped through the straw of your shaker.
Is there a Green Smoothie "Shortcut" for busy mornings?
A Green Smoothie is the ultimate superfood concoction. Drinking a Green Smoothie a day can benefit adults and children alike, providing a balanced platform of nutrition for optimum health. Still, it can be difficult for most people to keep a continuous supply of fresh greens on hand, and to take the time to pull out the blender every morning to create their Green Smoothie. The amount of grocery shopping required to keep a rotating stock of Green Smoothie ingredients on hand can also be prohibitive for many time-strapped families. Trying to buy in bulk often means wilted greens at the end of the week that end up in your garbage instead of your body, needlessly wasting your grocery budget. There are so many convenience foods that don't create any morning mess or require frequent shopping trips, cold storage, and preparation time, that a Green Smoothie breakfast is a tough sell despite its long list of health benefits.
If you are like us, it's difficult, bordering on impossible, to make a fresh Green Smoothie every morning. Lugging out the blender, sorting out ingredients, and cleaning the mound of dishes in our wake does not sound like the most appealing way to spend a morning. Luckily, Nourishing World scoured the supplement market for you and found the highest quality Green Powders, nutritional supplements worthy of being called Green Smoothie shortcuts. A Green Powder can offer you the quick, low-maintenance convenience you crave and the vitamin-rich, energy-packed, bioavailable nutrient delivery of a Green Smoothie you need.
Green Powder is easy to purchase, easy to store, and incredibly easy to prepare, even on the go. Green Powder also solves the complaint voiced by many would-be Green Smoothie drinkers: the taste. Even among nutrition-conscious eaters, it is the general consensus that the bitterness of a Green Smoothie made with leafy greens is hard to sneak past the taste buds. We love that these Green Powder supplements are mostly taste-free, a perfect solution for even the most sensitive palate.
There are a variety of ways that you can integrate Green Powder into your daily routine.
Add a scoop of Green Powder to a shaker with water or juice.
Supercharge your fruit smoothie with scoop of Green Powder.
Combine a scoop of Green Powder with your Protein Shake for a Meal Replacement Drink.
Is There A Green Smoothie Recipe or Green Powder To Target A Specific Health Benefit?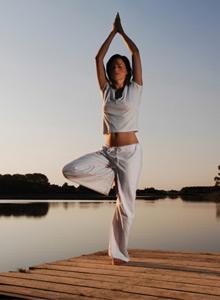 You know that adding a Green Smoothie to your daily routine will give you many overall health benefits. Did you also know that you can alter your Green Smoothie Recipe to meet your health needs on any given day? Doctors have found that pairing certain foods can create a synergistic effect in the body, and combining these foods in your Green Smoothie Recipe will allow you to tailor your Green Smoothie blend to fit your varying health needs. Switching between several Green Powders with different types of nutrient sources will ensure that your body benefits from a diverse selection of Superfood nourishment. Studies have shown proven function-specific healing powers of different Green Smoothie Recipes and Green Powders.
Green Smoothie / Green Powder Health Benefits
Supports Weight Loss
Helps Bolster Immunity
Provides a Vehicle for Detox of Organs
Delivers an Energy Boost
Whole Food Vitamin Supplement
Can Increase Libido
Nourishes Body for Healthier Skin, Hair, and Nails
Assists Dietary Changes Required for Acid Reduction in GERD or Alkaline Diets
What Did Dr. Oz Say About Green Smoothie Drinks?
Dr. Oz swears by Green drinks, which he promotes as a high fiber, low calorie, vitamin-rich breakfast beverage. On the Today Show's "2013 New Year's Resolutions" episode, Dr. Oz shared his popular Green Smoothie Recipe, a concoction of 11 natural ingredients that he makes himself every morning and calls "liquid gold." Getting enough vegetables, says Dr. Oz, is essential to optimal health, and drinking them in a Green Smoothie is the easiest way to ensure that your body has all it needs. Consuming a Green Smoothie, he tells his viewers, will boost enzyme production and aid in nutrient absorption.
Dr. Oz "Green Drink" Recipe (featured on Oprah and Today)
1/2 Cored Apple
1/2 Peeled Orange
1 Handful of spinach
1 Bunch of Mint
1/4 Bunch of Parsley
1 Carrot
1/2 Celery Stick, chopped
1 Handful of Pineapple, chopped
1 1/2 T lemon juice
1/2 Cucumber
2 oz water (or 3 ice cubes)
Add all ingredients to your blender or Vitamix. Puree at high speed for one minute. Yields one glass of the Dr. Oz green drink featured on Oprah and Today.
*This green drink has a strong taste. If your palate is not accustomed to the flavor, Dr. Oz suggested adding a sweetener like Stevia, Honey, or Agave nectar to the recipe. Alternately, adding a banana, carrot, splash of fruit juice, or a handful of organic berries will sweeten the green drink and mask the leafy green vegetable taste.
Does Nourishing World Have a Green Powder Recommendation For a Green Smoothie?
There are a lot of Green Powder supplements out there, so we went to work on checking the labels, researching the manufacturers, and discerning which products met our high standards. We are proud to say that we carry three brands of the very best natural, effective, whole-food-derived Green Powder in our Green Smoothie line. We chose each one because of its power to improve overall health and recommend each one based on its proven ability to target specific health benefits.
Energy Essentials Catie's Organic Whole Plant Food Greens and Catie's Organic Whole Plant Food Gluten Free Greens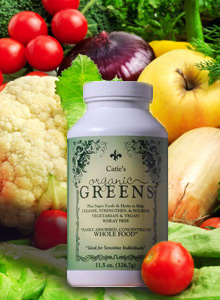 Catie's Greens and Catie's Gluten Free Greens combine proprietary blends of greens, grasses, fruits, veggies, mushrooms and more for vitamin-rich, super healthy greens formulas.
Dosage Recommendation:
1 Tablespoon on an empty stomach
Catie's Organic Greens and Catie's Gluten Free Organic Greens are powdered supplements made from freeze-dried whole fruits and vegetables. In fact, one serving equals a whopping 7 servings of vegetables. This superfood blend is rich in vitamins and minerals with the addition of probiotics, digestive enzymes, antioxidants, and essential fatty acids.
Nourishing World Recommends Catie's Organic Greens For:
Stabilizing Blood Ph
Increasing Energy
Preventing Free Radical Damage, a Proven Cause of Cancer
Promoting Weight Loss
Promoting Healthy Blood Circulation
Increasing Regularity
Increasing "Good Bacteria"
Supporting Immune System Function
Detoxing and Removing Heavy Metals from Blood
Cleansing, Strengthening, Nourishing, Nurturing, and Promoting Regeneration of the Organ, Gland, Bone, and Tissue Cells
Perfect Aquatic Greens Powder
Spirulina & Chlorella (also available in capsule form)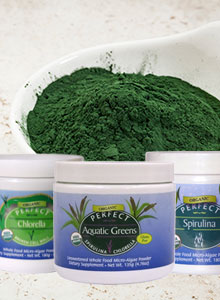 This fantastic supplement is a 50/50 combination of organic chlorella and organic spirulina. That's it, no fillers or flow agents are ever added to Perfect Supplements products. Both Chlorella and Perfect Spirulina can be purchased as single ingredient powders or capsules as well as the combination of the two in the Perfect Aquatic Greens.
Dosage Recommendation:
2800 mg
We recommend starting with 700 mg and gradually increasing your intake to 2800 mg per day to prevent digestive upset. Perfect Aquatic Greens is a Green Powder made from a blend of Spirulina and Chlorella. Spirulina, a blue algae, is a complete protein that contains all the essential amino acids as well as B-12. Many studies have been done on Spirulina's detoxifying effects. Broken-cell Chlorella is a high-protein green algae that is highly regarded as a superfood. Chlorella binds to heavy metal particles, making it a popular detox remedy for those suffering undergoing chemotherapy or radiation, as well as people who are exposed to heavy metals in the workplace. >
Nourishing World Recommends Perfect Aquatic Greens Powder For:
Detoxing Heavy Metals after Chemotherapy or Radiation treatments
Treating Heavy Metal Toxicity after workplace exposure
Filling Dietary Gaps to Promote Healthy Weight Loss
Stabilizing Blood Glucose
Balancing Gut Bacteria with Probiotics
Ulcer
IBS
Crohn's Disease
Diverticulitis
HealthForce Nutritionals Vitamineral Green
Raw, Truganic (Organic), Gluten Free, Non-GMO, Vegan, Yeast-Free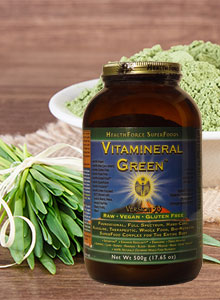 HealthForce Nutritionals set out to create a complete multi-vitamin from whole foods, and this tremendous greens powder is the result.
Dosage Recommendation:
1 - 2 Tbs daily
Vitamineral Green was formulated by a Naturopathic doctor, James Sheridan, to be a nutritionally dense, therapeutic superfood greens powder. It is what HealthForce Nutritionals calls a Vital Healing Food because every ingredient is chosen for it's nutritive and cleansing benefits. Vitamineral Green contains a full spectrum of vitamins and minerals, as well as all the essential amino acids – all naturally occurring for maximum absorbability.
Nourishing World Recommends HealthForce Nutritionals Vitamineral Green for:
Supporting Blood Sugar
Detoxification
Immune Boosting
Aid Organ Functions
Relieving Brain Fog
Facilitating Healthy Digestion (rec. for IBS and Crohn's)
Healthy Circulation
Longevity
by Colleen Russell & Kerrie Bross
Buy Now